Carpets
Twist carpet
is made from twisted fibres and is a cut pile it is the most popular of the tufted carpets. The surface is textured due to its corse finish. It is available in many colour variations and can be in one plain colour or a heather effect. The heather is often used in busy traffic areas, as the marks will show less. The pile is less likely to show footprints than velvet unless the twist is of a very fine nature twists very often come in a mixture of wool and synthetic fibre which is blended together to produce a stronger combination.
Natural Loop
consists of uncut loops of fibre the uncut yarn loops have a weave that bounces back and has a similar appearance to natural flooring.
Velvet
is a luxurious and soft cut pile, the fibres are straighter than a twist, it shows lighter and darker shading it has a smooth indulgent appearance
Saxony
is a dense cut pile tuft carpet, it has a deep pile giving a luxurious feel, however can flatten so is better suited to low traffic areas.
Contour
is an extensive and innovative new range of natural designs. The significant weaves of Sisal combined with the classic components of wool, Master piecing a statement in any home.
Axminster
is a woven carpet each individual yarn colour that goes to make up the carpet pattern is selected by a gripper and woven with the weft. After the required yarn colour has been woven into the backing it is cut automatically to the required pile height and then reinserted when this colour is next required. The construction process allows for complicated designs to pinpoint precision and high definition. The pile and backing is woven together this eliminates delamination and helps to keep the retention of appearance. These are very popular in commercial areas such as Hotels, public places.
Wilton carpet
like Axminster carpet, is woven. However the difference between the two methods is the way in which the carpet is woven. Whereas the Axminster yarn is woven into each weft and then cut to the required pile height and then reinserted when that colour is needed again – the Wilton carpet yarn is a continuous strand woven all the way through.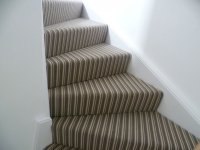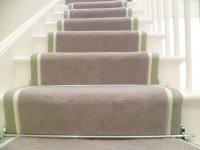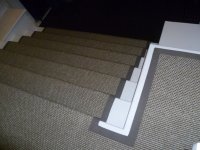 Difference between Woven and tufted carpets
Woven carpet is made using the traditional loomed method, which creates a more premium finish. This carpet is made with all patterns and colours woven in rather than printed on the carpet. A more premium product than tufted carpet, it's made either in pure wool or a blend of wool and manmade fibres, normally 80% wool, 20% nylon. Choose from Axminsters, which tend to be patterned, or Wiltons, which are more likely to be plain or have cut and loop styles.
Tufted carpet is currently the most popular type of carpet, as the manufacturing process makes this a great value choice. It's made by a row of needles punching the pile yarn into a backing cloth. This type of carpet is springy, and comes in a great variety of finishes and colours
Carpets brands available:
Brintons

Brockway

Ulster

Axminster

Louis de poortere

Kersaint Cobb

Jacaranda

and many more
Hypoallergenic Flooring
If you suffer from allergies, there are various types of hypoallergenic flooring that can be viable for you, including:
Manmade Fibre

Wood

Laminate

Vinyl
Please call and we will be happy to talk through the options.